THE BEST SPY APPS according to the editors
Have you noticed that your husband is behaving differently? Have they been staying out late, not coming home at all or maybe even avoiding contact with you? You may be married to a cheating spouse. The best way to find out for sure is by hacking their WhatsApp messages ( you can do this with mSpy spy app, which will be discussed in more detail later). Here are 5 signs that your husband might be cheating on you and the methods of how to catch them in the act!
If your husband suddenly becomes distant from you, if he starts changing his habits or even stops telling what's going on when he's out with friends then there might be a problem behind this behaviour. We propose that you consider installing a special spy app in order to know more about him and find out where he.
There are many signs of a cheating husband and the most obvious is when he suddenly changes his behaviour. You can also find out if he's been hiding something from you for a long time already, like suspicious calls or texts. If your husband stops telling you where he goes to work after dinner and comes home late then that's another sign of unfaithfulness towards you.
He might even stop showing any interest in you which should be an alarm for every woman claiming she wants her marriage to last forever! Try using mSpay app which we recommend as one of the best ones on the market today because it will help track all text messages, phone calls and other activities such as GPS location tracking system through Whatsapp messenger. We have identified the main signs of her husband's betrayal.
5 signs of cheating husband
He brings his phone everywhere with him
He stops telling you what he's doing when he goes out with friends
The name of the woman pops up in his phone all the time, so does her social media profiles appear on Facebook and Whatsapp.
You find new people added to him contact list on WhatsApp
He is always too tired for intimacy
How to catch a cheating husband ?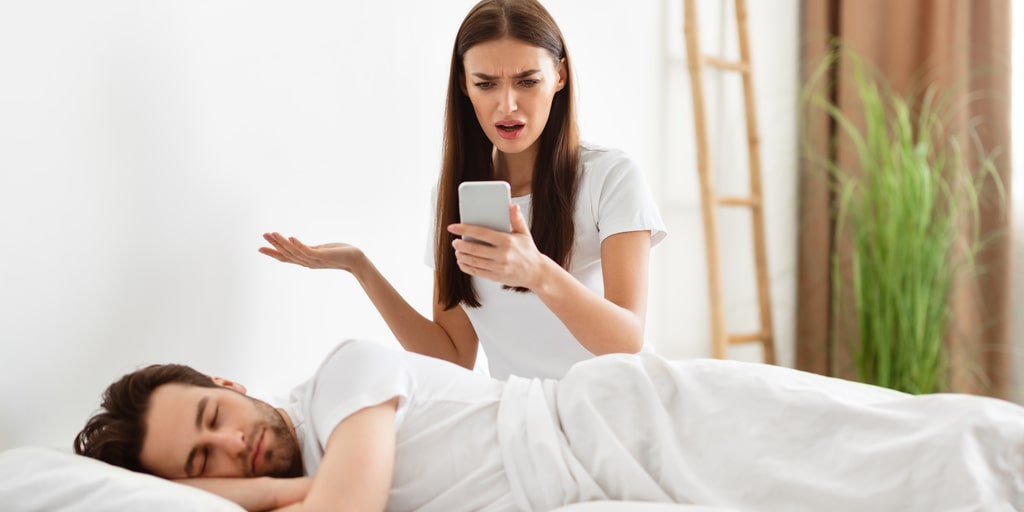 If you realize that at least 2 signs match your husband, then there might be a problem. We propose that you install mSpy and hack his Whatsapp messages. Installing it is very simple, you just have to follow the instructions on our website.
How to inspall mSpy: 3 steps
Install mSpy on your husband's phone. Download the application from our website
Choose subscription plan and make payment
Receive login data to access his Whatsapp messages, Facebook chats, pictures sent via social media platforms.
Open the mSpy website and click on "Start Tracking". Then, you will be forwarded to another page where you need to fill in your login details. Make sure that these are correct because if they are not, there is no way out of it later!
Also, make sure that all other information is filled correctly so nobody but yourself can log into your account! If everything was done right, a tracking code should appear on the screen below this form – copy it for future use. You have now successfully logged into your personal account with mSpy!
If you want to catch him red-handed and not just think of how likely he might be cheating: install mSpy now! You can do it right away by following this link. We hope that we helped you with all the information about catching a cheating spouse and would like to wish you good luck in finding out more truth about what is going on with your marriage.
Exert pressure on the phone and record all his conversations, read all messages through it. Snoop around for clues in order to find out what he is doing when he goes somewhere without you.
If you don't like spying on him, make a call and pretend that something happened at home and ask him to come back immediately. Then use his phone while waiting for him till he comes back. Afterwards, bring the phone along with yourself so that nobody can get access to it before checking its contents thoroughly.
Main mSpy features:
mSpy program will capture all incoming/outgoing call logs as well as contact names for these numbers so you can see who your wife or husband is talking to on a frequent basis. You are able to see what time of day they called each other about. It does not matter if it was an international number either because with this software you'll be able to view where that person lives too!
Tracking GPS location: If your partner is constantly coming home after work hours then there's something suspicious going on here which means he may be seeing someone else during those times. With this feature enabled in mSpy app, you can see where your partner is at any given moment as well as the route they take to get there.
Log WhatsApp messages: This feature allows you to read all incoming/outgoing message from Whatsapp which means that if your wife or husband has been messaging someone else then this will reveal it. You have full access into their chats and can even see what time of day these conversations take place too.
Access keylogger logs: The software comes with a built in key logger so you'll be able to access chat logs, emails sent & received plus much more! That's not all though because using mSpy app for iPhone you can view photos taken by their phone camera along with videos made on their mobile device too therefore making
-View photos from the target phone: As well as viewing the photos that are on your partner's phone, you can also browse through all of their images straight from mSpy. You don't even have to download them first!
-View instant messages from any website: Using mSpy you will also gain access into all their Instant messaging accounts including Facebook, WhatsApp, Snapchat & Tinder meaning that you don't need your husbands password anymore!
View social media posts & profiles: With mSpay you can also see all social media posts and profiles your partner has on Facebook, Twitter & Instagram.
Negative aspects of mSpy:
Some customers say that mSpy works well for them, but the same thing doesn't happen to other users. However, this is not a reason to doubt about quality of this service and its overall effectiveness as many people around use it successfully daily with no complaints at all.
Conclusion
So you can see that mSpy is the ideal choice for you! It will give you an opportunity to find out if your husband spends more time on WhatsApp than he actually should. You can get all necessary information using mSpay without any problems or difficulties even though it might look complicated at first sight.